RRR: Rough Rider Reviews
---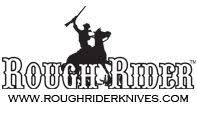 Disclaimer: The reviews on this web site are mine. I have not been compensated financially or by any other method by Rough Rider Knives*, or Smoky Mountain Knife Works, or any of its subsidiaries. All knives reviewed were purchased by me. All Images within the site were taken by me and as such are my intellectual property, unless otherwise noted.
As this site contains reviews of Rough Rider knives that are owned by me; you are not going to find a review for every Rough Rider knife ever made First off, there are over thousand different knives and the number keeps growing.. As this is my own venture and I am not financially compensated by anyone, nor are the knives provided to me for free, and I'm only reviewing knives I have purchased, it would be impossible to review every pattern and style of Rough Rider knife. For the most part I collect specific patterns, and or knives with specific types of handle materials. If you are thinking about buying a Rough Rider knife and you don't see a review for it here, do not ask me to review it. I'm not going to buy a knife and check it out just because you're wondering if it is any good. If its a Rough Rider, I'll lay odds it is worth the money. Take the So-called Rough Rider Challenge, and buy it.
About the reviews: I have an overall opinion of Rough Rider knives which is the reason this page exists in the first page. It has been called the "Best Bang For Your Buck" in several published knife surveys.. Many claim it is the best Chinese made knife on the market. I don't make such claims. My opinion is that for its price Rough Rider makes some of the best made knives on the market. I do not differentiate between USA made, Chinese made or German or Swiss made. So as not to make sound like a broken record, I've have summed up my opinion of Rough Rider Knives in an Overall review of the brand. You will find that under the title: An overview of Rough Rider Brand . In the caseof reviews for individual knives, series, or patterns, i have created a section called: Reviews by number, Pattern or Series. As time permits, I will add more individual and series reviews. Currently I have reviewed over 60 of the 90+ Rough Riders I own.