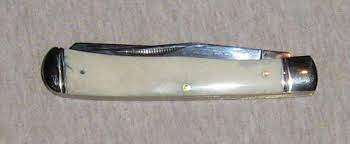 Description:
No doubt, the Standard Trapper is the most popular and most collected of all Traditional Slip joint patterns.  As such Rough Rider produces a Trapper for just about every series of knives and every handle material they make.  Surprisingly, it took them awhile to get around to producing in white smooth bone!
As many people know, I don't really collect Trappers. My problem with the standard Trapper is the spay blade. I have no use for it and it frankly gets in the way of holding the knife when the clip blade is in use. I currently own three Rough Rider Trappers.  I don't know if I will buy more Trappers but the decision will not be based on quality.  As with all Rough Riders, the knife is priced substantially lower than other knives of the same or even better quality.  They are great for building a collection or for everyday use.  What I'd like to see is more variety in the Trapper line. Perhaps some "slimline" single blade trappers or a Rough Rider Buzz-saw Trapper with a saw blade instead of a spay.  At one time Camillus made a Bartender Trapper that replaced the spay blade with a combination can-opener, bottle-opener, screwdriver blade. That would be de something I definitely buy.
Of course, this is just me. For all of you Standard Trapper collectors, you can't go wrong with a Rough Rider.   On a final note however, if you're going to buy the Trapper with the WSB handles, don't be fooled by the picture displayed at the SMKW website and most other places selling this knife.  The knife will definitely come with the Rough Rider single ringed bolster.  Most images show it with smooth bolsters.  Frost knives use smooth bolsters.  Most standard Rough Riders come with single ringed nickel silver bolsters.
Other patterns & handle Materials:
Rough Rider makes the Standard Trapper in almost every pattern and handle material. The White Smooth Bone Trapper is used for many promotional and fund raiser knives for SMKW such as Paws & Stripes and Graduation days, Father's Day and other special occasions.