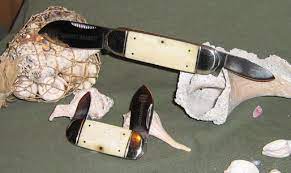 Description:
The Sunfish is a wide bodied equal-end knife with a wide spear- master and secondary pen blade.  Rough Rider makes it in two sizes, small and large.  The small or baby sunfish is 3 inches long in the closed position. It is about one inch wide! Like its cousin, the Elephant toenail, it is designed to cut rope.
There is a slight amount of blade drag around the pivot pins on the blades; especially the large wide spear.  It is indeed a minor flaw and I have experienced it other more expensive knives, including USA made Bear & Son and Case knives.  At least for me, this minor amount of blade drag would not be deciding factor against purchasing.
As my sunfishes are both early production runs they have the "Always Ready" etch on the main blade.  I'm not sure this will be repeated on future releases of the knives.  Not much more to say than they are nice examples of the pattern and priced accordingly. I'm considering getting a few more in some of the more exotic Rough Rider series simply because of how nice they look.  While the blades are razor sharp, and the fit and finish are exceptional I doubt I will ever use these knives but if you're a user of the pattern, I'm betting you will be pleased with these Rough Riders.
Other Series/handle Materials:
Rough Rider makes the Small Sunfish in the following handles/series: